Just Horses & Farmyard Friends
providing an NDIS service for people who are plan managed
NDIS Animal Care Program
Equine-assisted therapy and farmyard friends @ Just Horses . Bookings Essential.
Pony adventures with Andrea!
Come and interact with the horses & all our other farmyard friends in a healthy, accessible, safe, supported space.
Being around animals is a great way to learn about building healthy relationships based on trust, communication, respect and honesty.
Kids will learn how to communicate with their horse using body language and energy, discovering that leadership and respect is earned and nurtured, not demanded.
Kids will learn how to convince an animal larger than themselves to respond to what they want. This builds a sense of confidence and helps develop life skills that easily translate into their everyday activities.
Horses teach us a lot about ourselves! What a great way to learn new skills, keep fit and have fun! It's a great way to spend time as a family too. We specialize in one-on-one training and also offer school holiday events.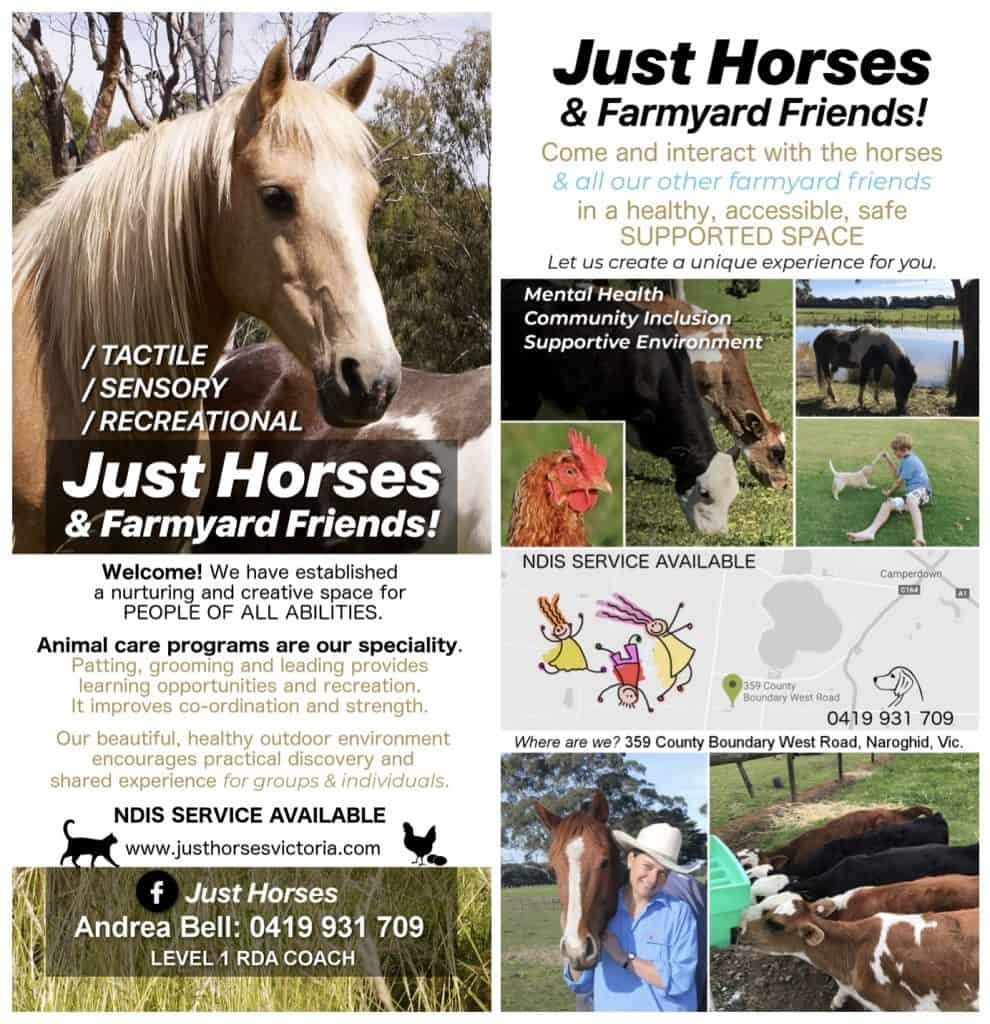 Welcome to my world of horses!
My name is Andrea Bell. Just Horses Victoria, located at 359 County Boundary West Road Naroghid Victoria, offers an NDIS Animal Care Program. I have created a space on our property for Horse Crazy Kids who just want to ride & be with horses… and we have many other farmyard animals to meet.  We specialise in equine and farmyard experiences for kids and families, and provide an NDIS service for people who are plan managed.   Just Horses is a nurturing and creative space for people of all abilities.
I have a 60m x 30m purpose-built sand arena and adjoining round yard. All ponies are very well educated and have been around kids for many years. I tutor in a very safe, considered environment. The kids will leave wanting more. My aim is to make each experience at Just Horses fun and engaging.
NDIS Animal Care Program:  equine-assisted therapy and farmyard friends.  
Animal care programs are our speciality; patting, grooming and leading provides learning opportunities and recreation. It improves co-ordination and strength. Our beautiful, healthy outdoor environment encourages practical discovery and shared experience for groups and individuals. 
I was that young girl who fell in love with horses…
As my parents lived in town I was unable to have a horse of my own. I had so many books, horse posters, swap cards, brushes and my own saddle at an early age. At the age of 18 I arrived at my dream job in 'The Snowy Mountains' of NSW as a Jillaroo, surrounded by horses, spending many hours in the saddle and mustering the high country, riding with the Brumbies… was a dream come true!
Fast Forward: I currently own and manage my own NDIS Animal Care Program for kids. On my property 'Maragle Park' I have created a space for those kids who want to hang with horses, to brush and groom them to go home covered in horse hair and having that unique smell of the horse on us. I'd love you to meet my horses! Andrea is a Level 1 RDA Coach, Preliminary Pony Club Coach, Gestalt Equine Practitioner. 
Book your pony adventure today 🙂
Call or SMS Andrea: 0419 931 709
How to find us...
Just Horses, 359 County Boundary W Rd, Naroghid VIC 3266
Testimonials… Book your pony adventure!

From the Wood's Family
"We had the best time with Andrea at Just Horses Victoria today. The kids loved the ponies, chickens, ducklings, calves and sheep roaming freely. Archie the pony was so gentle and gorgeous with my six year old. Andrea was very welcoming and open to meeting our needs. We'll definitely be returning, such a lovely place to spend an afternoon."
From Charley ~ age 14
"I started horse riding not that long ago and when I'm riding Charlie Brown I feel so safe on the horse because I know that Andrea has helped me learn the skills that I need to feel supported and successful. Andrea makes lessons fun and we are always learning things whether it's a new skill or a fun fact about caring for the horses! I always look forward to going to Andrea's and I hope to continue riding lessons with her."

From Lucy ~ age 12
"I love riding horses with Andrea, she always makes me feel happy and excited to go ride the horses. She has taught me so many new skills in a short amount of time. It is always a great experience."
From The Lukin Family (Mel Lukin)
"A wonderful place for children to enjoy some time with equine friends! Andrea is welcoming, generous and knowledgeable, she creates a lovely atmosphere with focus on safety and confidence building activities. Cannot recommend Andrea and Tim at Just Horses highly enough! My kids love it ! (15, 6 and 5) As well as playing with the ponies the gorgeous Beth is always happy for a pat and chickens ready for a cuddle."
From Amanda Winsall
"Highly recommend Just Horses. Andrea has set up a fabulous, welcoming environment for people to learn and grow their riding skills. My daughters have had lessons and attended a group pony club and learnt so much. Not just riding but also understanding and caring for horses. They can't wait to go back!!!"
Horse riding helps develop life skills... how?